I felt the first stirrings of spring when I visited Cleveland Square at the end of February and sensed that shoots might soon be poking their heads through their thick winter blanket of compost. Suzanne Etherton, the square's volunteer garden manager, was quickening her work rate as she tried to keep ahead of the relentless pace of nature and the seasons.
This magnolia caught my eye as its branches, laden with just-opening buds, strained towards the light, eager to lap up what it could before the canopies of plane trees and prunus asserted themselves. Magnolia is one of the most ancient of the flowering plants and is said to have appeared on the planet before the bees did.
A

local resident, Suzanne Etherton, started the transformation of the square five years ago when she was persuaded to take on the job. Her horticultural skills had been spotted on her small terrace nearby, and this Victorian garden square desperately needed a saviour. Suzanne has grand garden squares in her blood, having been born next to the wide expanses of Ladbroke Square in Notting Hill Gate, where her mother bought her first plant from Woolworths and got the bug for gardening. As well as these laudable London influences, her style of planting draws inspiration from Karen Junker, Sarah Raven, Dan Pearson and Tom Stuart Smith.
Suzanne's first priority was the improvement of the soil, importing vast quantities of the very best compost so that plants had a chance of success in their competition with the trees for nutrition. She also planted thousands of bulbs for a good show of colour in her first year, aided by funding from local estate agents, Lurot Brand, and a small army of children. Bulbs continue to feature - this pot of miniature daffodils is underplanted with three layers of tulips for a long display, and white narcissus as well as tulips abound in many of the beds. This year alone 7- 8000 bulbs have been planted.
Suzanne and her flexible workforce of gardening assistants have developed the square extensively. Using a classical garden square structure, there is now a raised circular bed at the centre, under a cherry tree, where plantings of fritillaria, hosta, crocuses and geranium lie in the centre, with clematis spelling over the edge of the supporting wall. The geraniums include the bright blue 'Rozanne' variety as well as 'Hilary' and 'Beth Chatto', with purple lupins peeking up against the hosta as well as Japanese anemones. A lesser known, smaller and less invasive anemone - the wild swan anemone also flowers later in the season.
Around the edge of the central circle there are four beds which include a riot of complementary plants, carefully chosen for a long season of flowers, such as peonies, tulips, lupins, echinacea, monarda, knautia, astrantia and dahlias. At the end of two of these beds are two white wisteria, trained just like standard roses, whose white tumbrels cover the bare branches later in spring.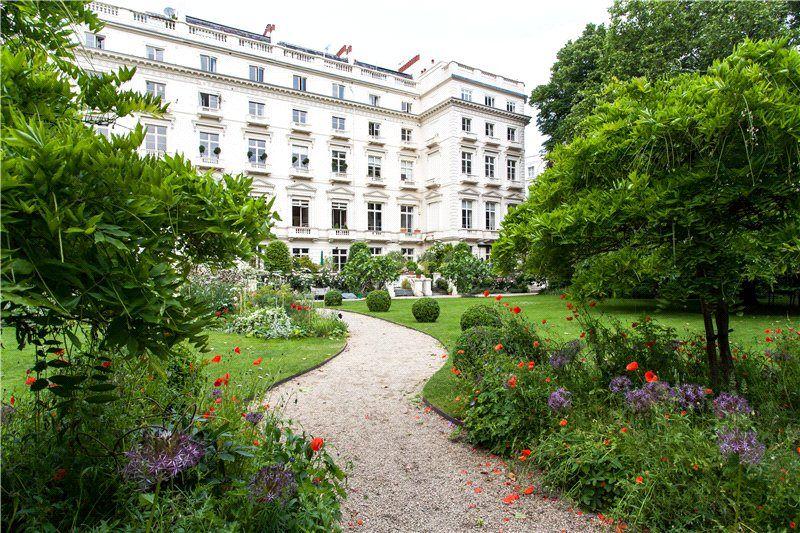 The iron supports for peonies and other tall plants stand proud at this time of the year, providing interest and expectation against the bare ground. Plants such as cardamine quinquefolia, which was already out, disappear when the hostas emerge, continuing their vigorous growth underneath.
Good gardening takes account of its environment and puts on a display in the darkest corners. Here, much use has been made of plants with lime green foliage which bring brightness to shady spots. Acanthus (Loddon Anna) is a good example, as is Millium Effusum 'Aureum' and trilliums such as Silene Fimbriata, and hydrangea 'Annabelle' provides a contrast with its cream flower heads. They can't stop creating new, beautiful spaces in this square in Bayswater. The latest project, part-funded by Knight Frank, is an incline in a soggy and boggy area with circle blocks on the ground from a plane tree - hellebores will be planted at the top of the bank so that visitors do not have to stoop down to enjoy their nodding heads.
Fruit trees such as fig, plum, cherry and apricot are dotted about the garden, along with a variety of herbs and specimen trees such as Parrotia Persica (a relation of the witch hazel) and a Japanese Snowball (Stirax Japonica). And the juxtaposition of lupins, poppies and thistles above swathes of sweet rocket and stock in June, when the garden opens for Open Garden Squares weekend, is a joy not to be missed.
Children have play areas in the square, which happily accommodates the mix of children exploring the undergrowth and great flower displays. Residents use the square well and even bring out cups of tea for the gardeners. When I visited, one resident was walking her cat, Eric, in the garden and he tiptoed gently across the lawn, expertly avoiding the soggy bits, until he stopped by a hose for a drink.
Cleveland Square was established in the 1850s. Plane trees flank the square on three sides, with one side having the pleasure of direct access to the garden from a terrace of houses. The Westbourne river runs under the square on its way to Hyde Park. Cleveland Gardens nearby has recently had its iron railings restored and Suzanne has plans for the future enhancement of this neighbouring square - so watch out for the emergence of another horticultural delight.